There are many benefits to having a therapy dog in a program like ours, not only for our clients, but also for our staff, and volunteers. Options has a therapy dog to help decrease anxiety, induce calming, lend comfort, and help improve verbal communication for clients, and staff can benefit from increased energy levels, a boost in self-esteem and mood, and a break from our work.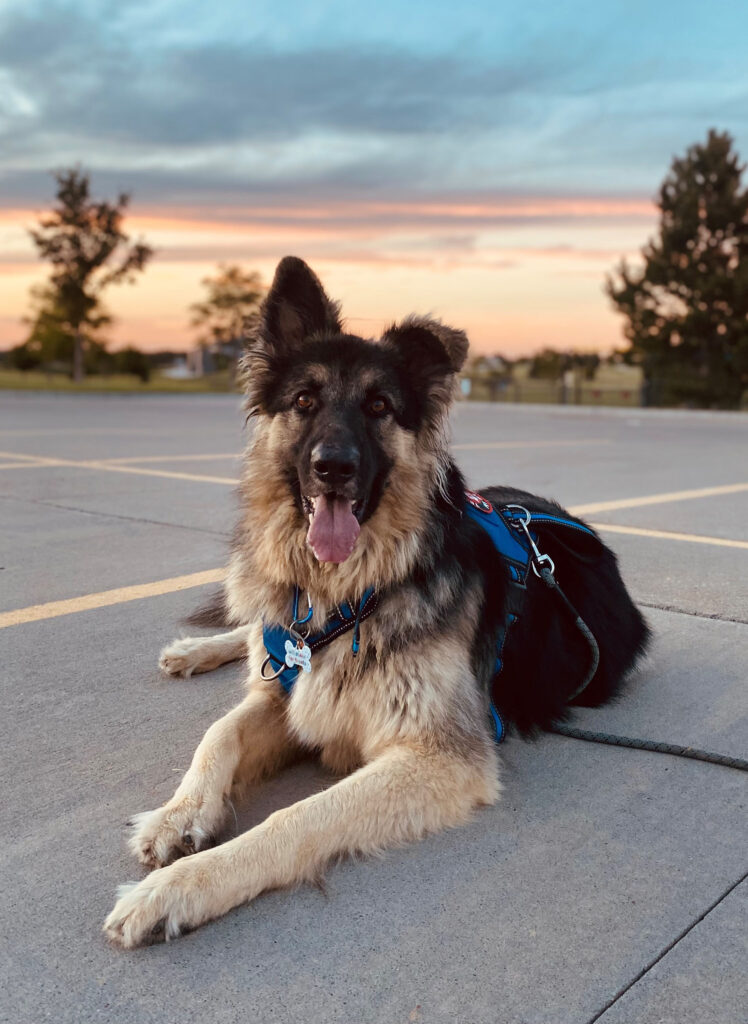 Meet our Therapy Dog Team!
Blue is a 3.5-year-old (fluffy) German Shepard. Blue's owner, Alicia Gines, is a Community Advocate for Options and the two primarily work out of the Colby office and surrounding areas. Blue prefers to follow his owner everywhere because Blue's first job was a Service Dog for his owner.
Blue has taken those valuable skills he learned as a Service dog and has naturally adapted them to his job as a Therapy dog. Blue tends to use his body weight to bring physical awareness and comfort to people near him. He can also use his nose to "boop" someone or his paw to signal that he knows something is just not right with an individual. His fluffy hair and adorable floppy ear can also help bring calming effects when individuals pet him.
"Work" is not work to Blue, it's his calling! Blue LOVES working with survivors and bringing awareness throughout the community. If you gave Blue the choice to be lazy on the couch or "work", he would rather be meeting people and showing them that it's okay to have big feelings after trauma. Don't be fooled though, Blue certainly loves to sit in laps and be lazy.
On Blue's days off you can find him right next to his owners. They love going on walks, getting pup cups, and playing hide-n-seek. Blue goes just about everywhere with his family, and they wouldn't have it any other way.
Fonzie is our therapy dog in-training in our Hays office. He joined Options in November 2019 after being rescued from the Hays animal shelter. Fonzie has been working very hard to fill the shoes of his big brother, Sunny.
Most days Fonzie enjoys coming to work in the Hays office with our Executive Director, Jennifer. Some days he would rather stay home and sleep, mostly after a weekend of playing with his little pal, Jennifer's granddaughter. He eagerly greets everyone that walks into our building and wants to have all of the pets he can get. 
One afternoon, Fonzie was working at our shelter to help comfort a child. When Fonzie and a shelter advocate arrived, the child was very upset and struggling to calm down. Fonzie laid down and crawled over to the child and laid his head in the child's lap. The child started to pet Fonzie and soon the child stopped crying and began giggling. They were inseparable for the rest of that afternoon.
Fonzie has been comforting to many clients at our office, too. He has sat beside clients, getting all the pets and taking their anxiety and helping to calm them down. He is always learning new skills and working to find a balance between work and playtime.
Just like a child's favorite class being recess, his favorite is playtime, haha!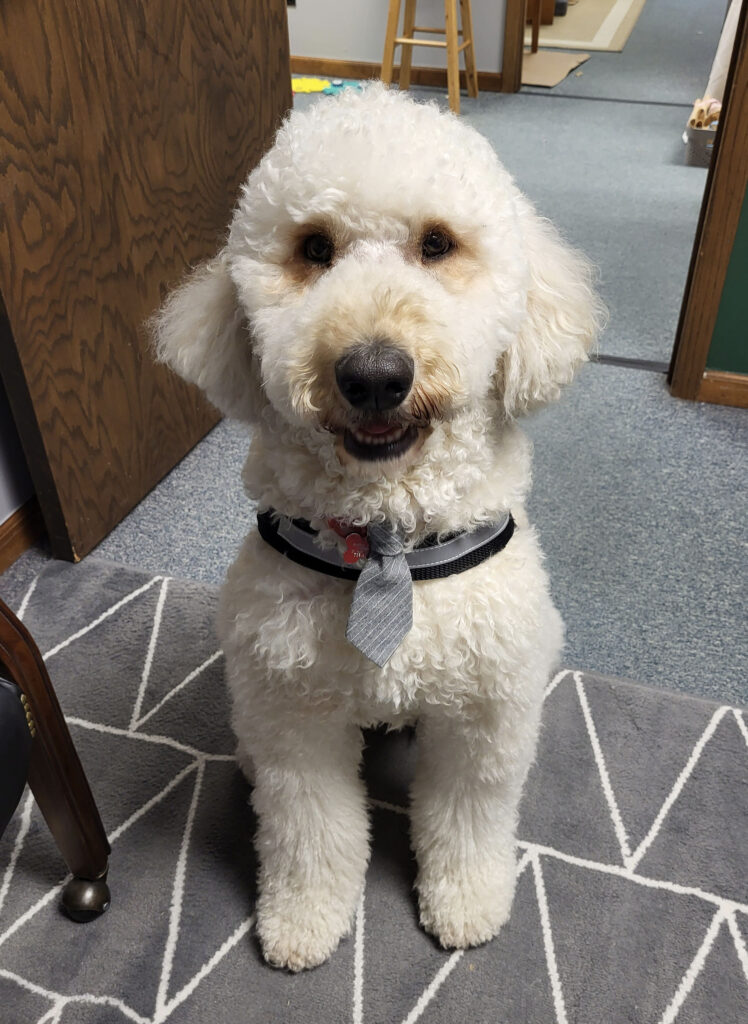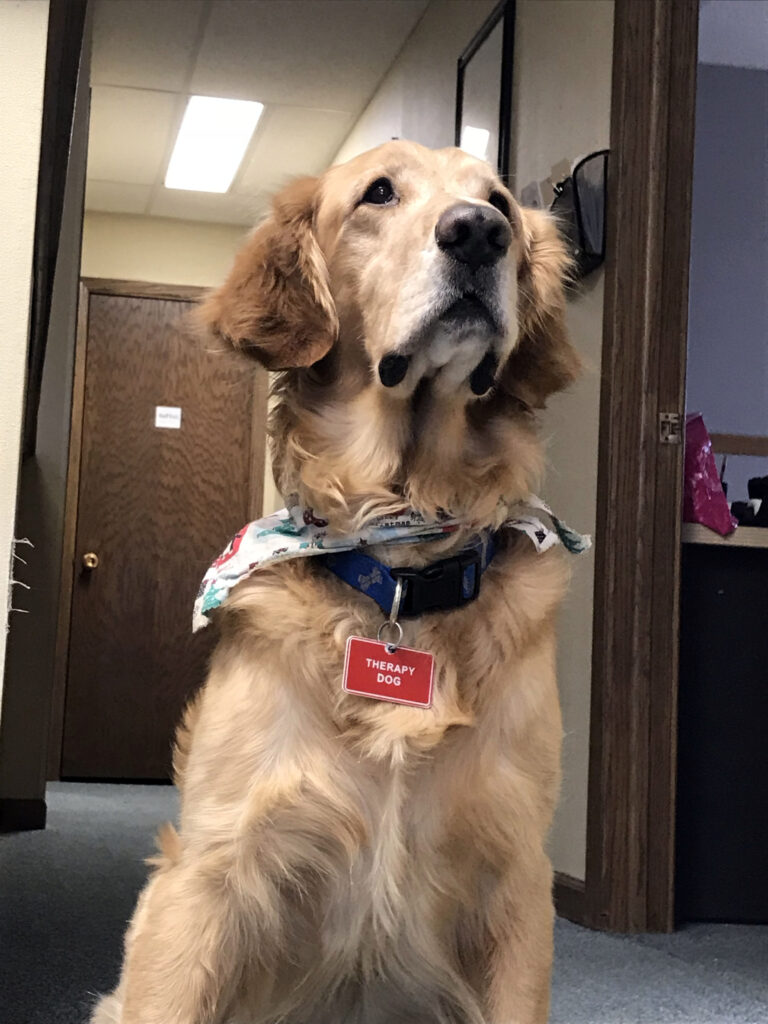 Sunny would come to work every day with our Executive Director, Jennifer, eager to help anyone that he could, whether that was a client or a staff member. 
A therapy dog can be a useful tool for more than just the calming effects of petting a dog or feeling the comforting weight of the dog's head or paw. For five-year-old Jacob (of course, not his real name), Sunny was the perfect outlet. On Jacob's third visit to Options, he met Sunny. Jacob had been silent and not connected with the advocate. Everything changed when Jacob met Sunny.
Jacob's advocate talked to him about dogs and how they can understand and keep secrets. She talked about the things that dogs can give to people and what people give to dogs. One of those things in particular was that you can tell Sunny things that you sometimes can't tell others.
At first it wasn't going anywhere, but then after a few minutes, Jacob got down on the floor and laid on Sunny. Sunny just laid there and did his job to comfort Jacob. Soon, Jacob lifted Sunny's ear and told him every terrible thing that he, his mom and sister had gone through.
Jacob shared with Sunny all the horrible things a child should never see. In the end, Jacob patted Sunny on the nose and said, "I know you are going to keep my secrets."