In the spring of 1983, a small but mighty group of social workers, police officers, attorneys, nurses, and faith leaders set out to make a difference in their community by working to end the scourge of domestic violence and sexual assault plaguing northwestern Kansas. Armed with courage and determination, this fearless group of volunteers began to discuss their vision and their mission…to empower individuals who experience domestic, sexual, interpersonal, or stalking violence through individual support while educating our communities to identify and confront the causes of violence in society.
Together they worked tirelessly, often giving money from their own pockets, to create formal, organized services for the many women and children suffering in silence. The Northwest Kansas Family Shelter was born through the actions of these committed community volunteers to serve 18 counites in rural western Kansas. Volunteers formed the board of directors. Volunteers provided one-on-one services to victims. Volunteers opened their homes to provide shelter to those in the most need of a safe place to live to escape the brutality of abuse at home. We called them "safe homes" in those days.
During this same time, the Kansas rape statue was amended to allow spouses to be charged with rape, and sexual assault victims began to receive more focus and services. The Protection from Abuse Fund was established in Kansas to assist domestic violence programs – the first official state funding for victims of domestic and sexual violence. This funding allowed the organization to hire their first employee – an Executive Director, named Julienne Maska. We still rely on this funding today.
While "safe homes" filled an immediate need for some victims, the volunteers frequently noted that the victims they were helping needed much more than just a roof over their heads. Victims needed counseling, a crisis hotline, support groups services, and referrals. The organization engaged in strategic planning to determine the future needs of the community including a proper safe shelter.
Over the decades, through public education efforts, formal support from the state and federal government, and community support from staff and volunteers, the organization grew to provide 13 core services for victims and survivors domestic violence and 12 core services for victims and survivors of sexual assault. Each victim and survivor's story is unique to them and staff work to meet their individual needs through confidential and non-judgmental support, 24-hour helpline, text messaging and live webchat services, 24-hour crisis intervention, one-on-one peer counseling, support groups, 24-hour emergency shelter, 24-hour emergency accommodations, 24-hour law enforcement advocacy, 24-hour medical advocacy, personal advocacy, safety planning services, community referrals, parent-child advocacy, child/youth services, and community outreach and education. 
As the years rolled by, we saw a few more name changes; and a few location changes as we adjusted to meet the needs of the changing communities we serve. Today we are known as Options Domestic & Sexual Violence Services.

Options continues to stay true to the guiding principles set forth at its inception by the first board of directors in October 1983 and has expanded services to include working with victims and survivors of domestic violence, sexual assault, dating violence, stalking, and human trafficking. Options continues to serve the 18 counties of Northwest Kansas with our main office located in Hays, an outreach office in Colby, and a shelter facility in an undisclosed location in Ellis County. The agency began with a staff of 1 and has grown to a staff of 23.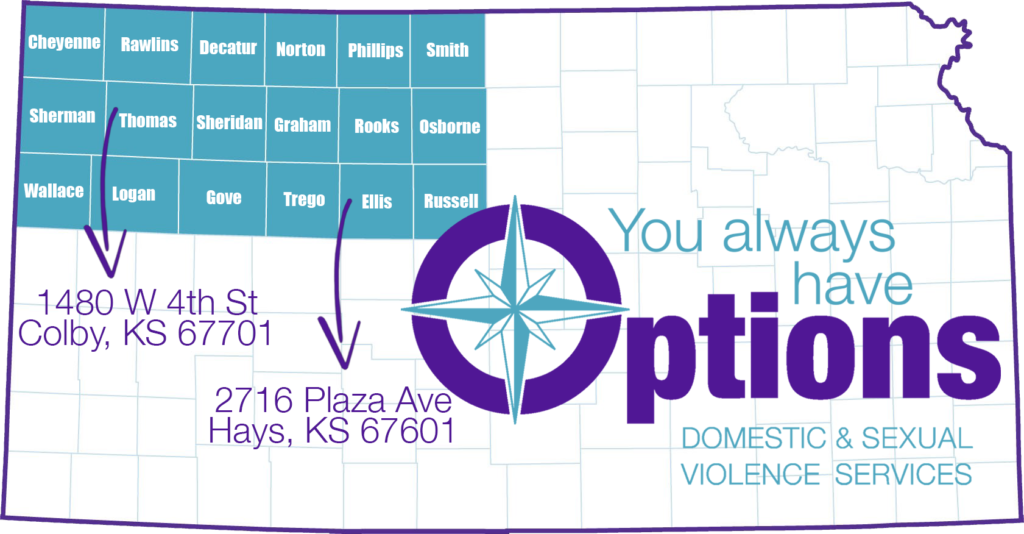 Today our mission is simple…To provide options of help, hope and healing to victims and survivors of violence and abuse.