Currently, our Mobile Office Hours are suspended due to staffing changes.
Mobile Office Hours will resume shortly. We apologize for any inconvenience.
You can reach an advocate 24/7 by calling our helpline at 800-794-4620, texting HOPE to 847411, or Chat with Options.
Thank you for your understanding!
Service Area
Click the counties on the map to find out when an advocate is available in your location.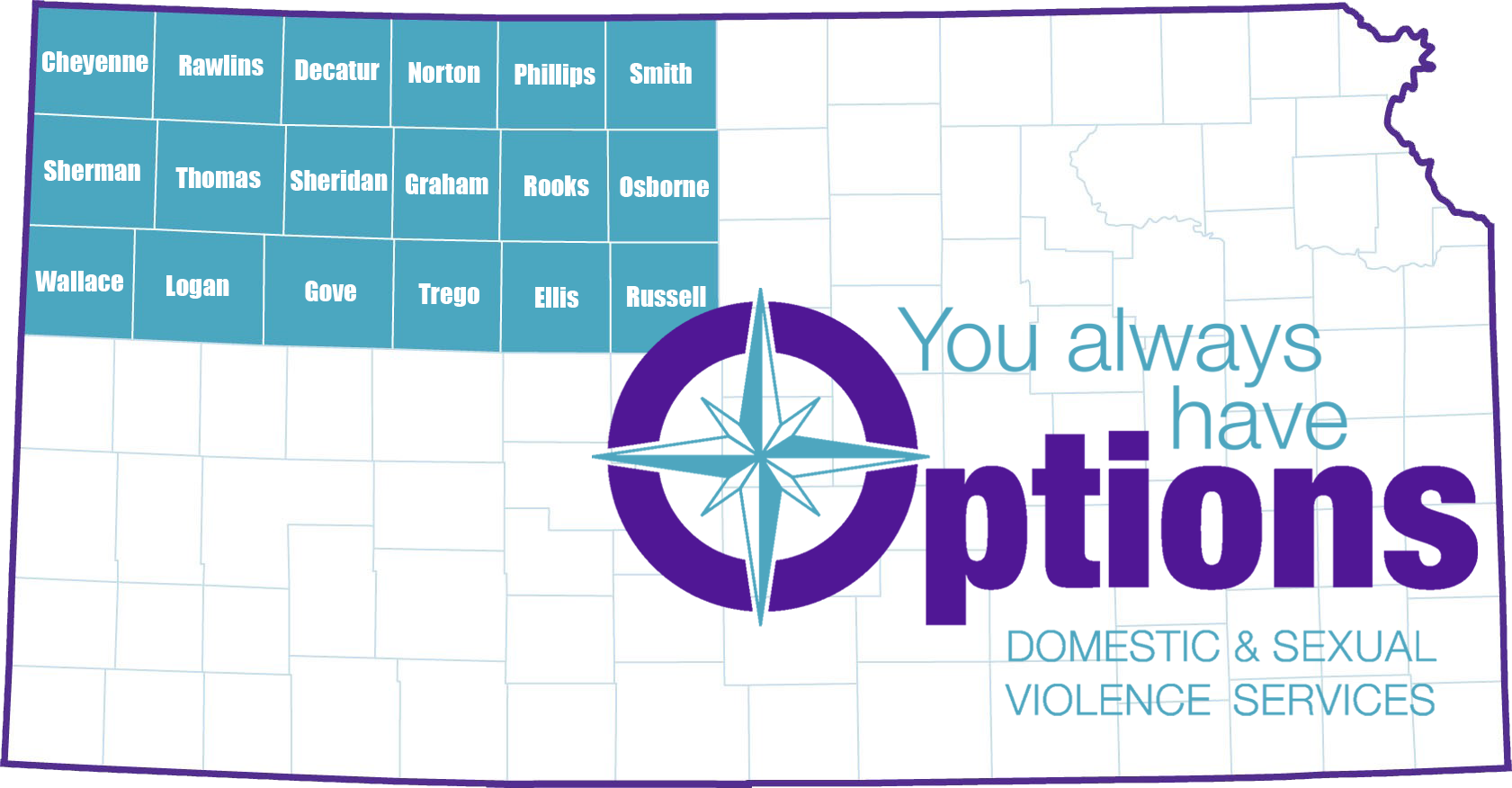 Cheyenne County
Second & Fourth Mondays
1 pm - 3 pm

St. Francis Public Library
121 N Scott St
St. Francis, KS 67756
Rawlins County
Second & Fourth Mondays
10 am - Noon

Rawlins County Health Department (Back Office)
216 S Fourth St
Atwood, KS 67730
Decatur County
First & Third Wednesdays
10 am - Noon

United Methodist Church
102 N Cass Ave
Oberlin, KS 67749
Norton County
Second & Fourth Mondays
12:30 pm - 3:30 pm

United Methodist Church
805 Wilberforce St
Norton, KS 67654
Phillips County
Second & Fourth Tuesdays
9 am - Noon

Phillips County Community Foundation
205 F St
Phillipsburg, KS 67661
Smith County
First & Third Mondays
12:30 pm - 3:30 pm

Smith County Courthouse
Jury Room
218 S Grant St
Smith Center, KS 66967
Sherman County
First & Third Mondays
10 am - Noon (Mountain Time)

United Methodist Church
1116 Sherman Ave
Goodland, KS 67735
Thomas County
Second & Fourth Thursdays
10:30 am - 3:30 pm

Colby Community College Student Union
1255 S Range Ave
Colby, KS 67701
Satellite Office
Monday - Friday
8:00 am - 5:00 pm
1480 W 4th St
Colby, KS 67701
Sheridan County
First & Third Wednesdays
1 pm - 3 pm

Sheridan County Courthouse
Commissioner's Meeting Room
925 Ninth St
Hoxie, KS 67740
Graham County
Second & Fourth Mondays
9 am - Noon

United Methodist Church
118 N Fourth Ave
Hill City, KS 67642
Rooks County
Second & Fourth Tuesdays
12:30 pm - 3:30 pm

Rooks County Courthouse
115 N Walnut Ave
Stockton, KS 67669
Osborne County
First & Third Mondays
9 am - Noon

Osborne County Courthouse
Jury Room
423 W Main Ave
Osborne, KS 67473
Wallace County
First & Third Mondays
1 pm - 3 pm (Mountain Time)
Available by Appointment on Third Monday Mornings

Wallace County Courthouse
Commissioner's Meeting Room
313 Main St
Sharon Springs, KS 67758
Logan County
Second & Fourth Wednesdays
1 pm - 3 pm
Logan County Courthouse
Commissioner's Meeting Room
710 W Second St
Oakley, KS 67748
Gove County
Second & Fourth Wednesdays
10 am - Noon
City Hall - Mayor's Office
202 Gove St
Quinter, KS 67752
Trego County
First & Third Tuesdays
9 am - Noon
Trego County District Court
216 N Main St
WaKeeney, KS 67672
Ellis County
First & Third Thursdays
9 am - 4:30 pm
Fort Hays State University
Memorial Union
700 College Dr
Hays, KS 67601
Main Office
Monday - Friday 8:00 am - 5:00 pm
2716 Plaza Ave
Hays, KS 67601
Russell County
First & Third Tuesdays
2 pm - 5 pm
Russell County Area Community Foundation
507 N Main St
Russell, KS 67665